The Streets are No Place for a Cat

I'm fed up. I've said it before and I'll say it again: the streets are no place for a cat. But the message just isn't getting through.

I am a witness to the toll life on the streets exacts from our feline friends. It's tragic. On my drive to work, I see cats wandering the sidewalks alone, dodging cars and scurrying under bushes. Read the full story.

Sweetie the Kitten Recovering With OHS Foster Volunteer After Tail Amputation
When Sweetie arrived at the OHS on Jan. 9, the tiny kitten was in terrible pain from a broken tail. She had been dumped by the side of the highway and left to suffer in the snow until a Good Samaritan scooped up the little kitten and brought her to the shelter for help.
The witness who brought Sweetie to the OHS told investigators that a silver pickup truck driving on Colonial Road toward Frank Kenny Road near Navan stopped before tossing the kitten from a front passenger window. The driver was reportedly a wearing a baseball cap.
Since first arriving, the OHS vet amputated Sweetie's badly broken tail. She's now recovering with an OHS foster volunteer until she heals from the surgery and from an upper respiratory infection.
Sweetie is a purr machine, is eating well, has been willingly taking her medication, and has a mountain of toy mice to choose from, her foster volunteer reports.
If you have any information about the person who abandoned Sweetie, please call OHS Rescue and Investigation Services investigators at 613-725-3166 ext. 224.
The investigation into Sweetie's case is just one of more than 1,200 by OHS agents this year alone. Help the OHS do the important work of seeking justice for Sweetie and animals like her.
Saving Cat Lives with the OHS Feline Enrichment Program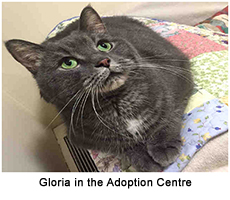 When Gloria was surrendered to the OHS in October, the six-year-old cat was terrified. She stopped eating and spent her days cowered in her kennel, devastated to be away from the only family she ever knew.

Clearly very afraid but not aggressive, Gloria was a good candidate for the OHS's feline enrichment program. The program targets cats that are stressed and scared in the shelter, those that have been at the OHS for two weeks or longer, those frustrated in their cages, and those that are sick or not eating.

When cats like Gloria are scared, their fear overshadows their true personalities. The stress can even make them sick and they stop eating. When that happens, they can go downhill fast, said Ashley Hodgins, OHS feline coordinator.

"Now that we can recognize that these behaviours are caused by stress and fear and we're able to alleviate that, we can help more cats make it to the Adoption Centre," Hodgins said.

Stress and fear comes from an absence of the familiar, Hodgins said. In a busy shelter, there are none of the typical sounds and activities of a home, and there's less touch than if kitty were living with her family. To solve this, volunteers sit with the cats, petting them, and even read to them. They groom them, as stressed cats tend to neglect it. OHS staff even take some of the enrichment kitties into their offices where they can stretch out and get some individual attention.

"It shows them the shelter isn't such a scary place and it gives them the same comfort they used to have in their homes," Hodgins said.

In just two days of enrichment, Gloria was a different cat.

"She loved having her head and chin rubbed, she was purring really loudly, and she was rolling on her back and showing her tummy," Hodgins said.

Since it began in August 2014, 473 cats graduated the feline enrichment program — including Gloria. She got her happily ever after on Jan. 20.

Every day, five to 10 cats are added to the list of felines needing enrichment. We can only be there for them with your help.

Buddy & Belle: Mica

After one of her puppies got stuck, Mica needed emergency medical intervention. Read Mica's story.

Top Three Reasons Hamsters Make Great Pets

Have you ever considered adopting a hamster? Watch our video to find out why they make great pets! And check out the hamsters currently available for adoption.
February is Spay/Neuter Awarness Month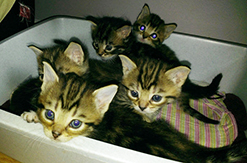 Every year, thousands of stray animals arrive at the OHS after suffering on the streets. Some are the result of unplanned litters while others are abandoned by their owners for treatable health or behavioral reasons.

The OHS helps prevent future suffering by spaying or neutering every cat, dog and rabbit before they head to our Adoption Centre to find their happily-ever-afters. Last year 3,062 animals were spayed or neutered at the OHS and benefitted from all of the health and behavioral advantages that come along with it.

February is Spay and Neuter Awareness month. You can help by spaying or neutering your own pet and encouraging others to make this life saving choice. You can also help spay or neuter the animals adopted at OHS this year before finding their forever homes.
Bake Cupcakes, Raise Funds and Save Animal Lives!
The Ottawa Humane Society has once again joined National Cupcake Day for SPCAs & Humane Societies on Monday, Feb. 29. We would love for you to participate and raise funds by baking cupcakes in exchange for much needed donations for the animals!
Visit www.ottawahumane.ca/cupcakeday to register and learn more! If you can't participate, please consider donating online to National Cupcake Day.
Time is running out; get your Warm Hearts Raffle tickets!
The raffle is almost sold out and the grand prize draw for three cash prizes is taking place on Feb. 12, so don't delay and purchase your tickets today! Visit www.ottawahumane.ca/raffle for instructions on how to purchase tickets.